Shaman Stones / Moqui Marbles
" If you are sensitive to energy you will find them quite fascinating, exciting "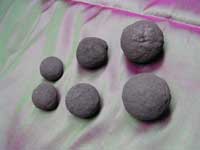 A core of hard-packed sandstone inside a shell of iron, phosphorous and lime. Like those samples found in the American desert areas these stones have oxidized.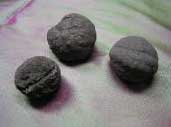 Three intuitive people have provided their insights after experiencing these stones. Here are their comments.
Al Abernethy (Read his article here)
Kellie Welk (Read her article here).
"They help find an interdimentional doorway to working with shamanic energies. They work like a spark to help you access more information in whatever you are working on and help you to receive more information in the moment; acts as a focussing tool and assists in manifestation ."
- Wayne G., Alberta
Hold one in each hand during meditations and spiritual journeys.
They are also great connectors to Earth energies, animal spirits, totems, and guides and good healers as energies flow easily up the Chakra column. They create equal balance between grounding and energizing.
They are usually used in pairs.
Medium stones are 1-3/8" to 1-1/2" in diameter
Large stones are 1-5/8" to 1-3/4" in diameter
size approximate.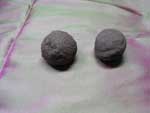 NOTE: Temporarily Out of Stock
| | |
| --- | --- |
| Medium Pair of Stones: | $27 |
| Large Pair of Stones: | $36 |